Better late than never
Posted to PoisonedWells.com Thursday May 2, 2002
Commentary By J.C. Huntington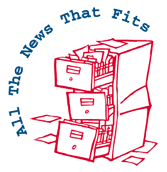 The San Manuel Miner has finally informed their readers of the fact that voters will be able to decide whether or not two housing projects with a combined population larger than Casa Grande should be built on 7,100 acres of Sonoran desert.
The story broke April 15 and the Miner was informed of the development by three separate sources that same day.
Two weeks later the Miner decided to cover it.
The coverage was terse, but ran above the fold on page 1.
A transcription of the entire piece follows
---
O'Neil rules referendum will go to the people
By Gayle Carnes
The proposed referendum regarding Pinal County Zoning near Oracle will go to the people.
Pinal County Superior Court Judge William O'Neil ruled April 12 that "the petitions were valid."
Developers Robson and Anam challenged the petitions claiming that the were not submitted in a timely manner and were therefore invalid.
The developers have the opportunity to appeal the judge's decision, but is is unknown whether they will or not.
Use The 'Back' Button On Your Browser
To Return To Previous Page
News & Information
Introduction

email:mekazda@mindspring.com