IRRESPONSIBLE DEVELOPMENT?
. . . YOU DECIDE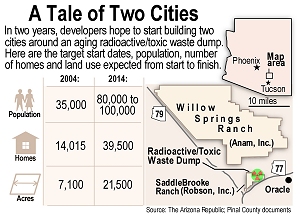 Land speculators and developers want to import over 100,000 people to the desert around an aging radioactive/toxic waste dump and have devised a multi-phased plan to achieve their goal.
After we collected nearly 12,000 signatures demanding a public vote on the speculative plans to create two cities in the desert, the backers sued to keep you from voting on their plans.
WHAT'S AT STAKE?
Public Health, Less Water, Higher Taxes & More Crime,
Public Health
Water for the projects would come from an aquifer that lies beneath the decades-old Trowbridge radioactive/toxic waste dump.

One of the developers has proposed circling the dump with high volume pumps to provide water for the project's golf courses.

The developer claims the massive groundwater pumping for the projects golf courses will keep toxins from spreading through the aquifer.
Less Water
More people means less water.

Groundwater is being depleted at an alarming rate. Water levels in Oro Valley, a town situated a few miles south of Oracle Junction, have dropped more than 20 feet in the last two years

[1]

.

CAP water to "replace" the water used by the projects' golf courses would be recharged in an aquifer some 40 miles south of the projects.

This "replacement" water will never make it back to the local aquifer.
Higher Taxes
More people means higher taxes.
More Crime
More people means more crime and more crime means higher taxes.

Pinal County Deputy Manager Terry Doolittle explained "along with population increases comes increases in crime," and that increased crime means increased costs and increased taxes

[4]

.
Continued Destruction of The Sonoran Desert
Thousands of acres of Sonoran desert will be destroyed and thousands more acres will be put at risk.
A carpet of red-tiled rooftops, broken only by groundwater-fed golf courses, will replace the fragile desert ecosystem. Caravans of golf carts will replace wildlife corridors. Land values will rise and the surrounding State Trust Land will be sold for more development, leading to more crime, higher taxes, less water and increased risk to public health.

HOW YOU CAN HELP

Citzens have donated more than $20,000 to bring this issue to the voters, but we need more. We need at least $25,000 more to fight the appeals and bring this issue to the ballot box.

Any Amount will help. Make checks payable to:
Pinal Citizens for Sustainable Communities
P.O. Box 812
Oracle, Arizona 85623