County stiffs Oracle kids, favors park in supervisor's hometown
Posted to PoisonedWells.com Wednesday, June 12, 2002
By J.C. Huntington
While a local Oracle group had to solicit money and volunteer labor to clean and maintain the county park in Oracle, the Pinal County Board of Supervisors spent over $50,000 to embellish the Lionel D. Ruiz County Park in Dudleyville with several amenities.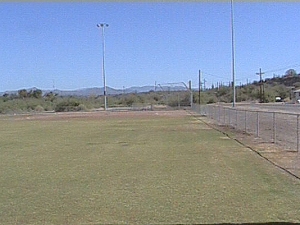 An inspection of the Lionel D. Ruiz Park in Dudleyville shows that it sports a well-lit ball field with a lush and well-trimmed field, picnic ramadas and play equipment.
The population of Dudleyville is about one-third the population of Oracle and is the hometown of Supervisor Lionel D. Ruiz.
Apparently motivated by the poor condition of the county park in Oracle, a group calling themselves "Citizens for Positive Growth and Development" (CPGD) collected $2,000 in donations and used a portion of it to clean the park and refurbish the playground equipment.
A large spread on page one of the September 12, 2001 edition of The San Manuel Miner carried two large photographs of Oracle retirees painting playground equipment at the Oracle park.
According to the Miner story, "over 45 people turned out for the event." The county pitched in by donating the labor of ten trustees from the Pinal County Jail. Corporal Carlos Porras supervised the county volunteer labor.
The Miner story quoted CPGD director Elaine Helzer as saying the group intended to "purchase new playground equipment for the Park," and urged folks to contact CPGD to donate money to help with the "Oracle Park Makeover."
In October of 2001, one month after volunteers cleaned and refurbished the Oracle Park with donated funds, Pinal Supervisors spent nearly $30,000 on lighting equipment for the ball field at the Lionel D. Ruiz Park.
During the January 16 2002 Board of Supervisors meeting, Ruiz praised CPGD for "taking ownership" of the county park in Oracle. Ruiz made the comments after voting to award CPGD with a 25-year lease on Wood Field.
In addition trying to maintain and upgrade the Oracle park, CPGD is also asking folks donate money to build another park for Oracle kids at Wood Field.
In April of 2000, the supervisors spent nearly $10,000 for an irrigation system to green the Lionel D. Ruiz park ball field turf.
In July of 2000, the supervisors spent nearly $12,000 to buy and install sod on the ball field at the Lionel D. Ruiz park.
The picnic ramadas at the Lionel D. Ruiz park cost nearly $4,000 and were purchased in July of 1999.
The minutes for the September 15, 1999 Board of Supervisors meeting show the supervisors awarded a bid for "Playground System and Swings" to Recreation Design Concepts and Playhard Playground Installations at the Lionel D. Ruiz park.
The minutes do not show the amount of money paid for the equipment and installation, however.